MAURITIUS OFF THE BEATEN TRACK

Mauritius is a beautiful tropical island located in the Indian Ocean that has much more to offer to tourists than white, sandy beaches and lush green landscapes. For an island that may look small on the map Mauritius packs in a lot of culture and adventure. And if you want to explore the island on your own then these are some hidden gems that you would love to discover.
1. Exploring China Town – Port Louis
The city of Port-Louis have so many different neighborhoods, each having a very specific cultural identity and history. One of them is China Town. Compared to China Town areas in other countries, this one is relatively small and less animated however it has its own unique charm. The China Town area runs for about 500 meters along the well-known 'Rue Royale' in Port Louis. It is a true cultural heritage for Mauritius.
Here you'll take in the rich mercantile life of the Chinese community, busy Chinese restaurants and grocery stores, and streets echoing with the unmistakable clatter of mah-jong tiles.
2. Sea Kayaking Trip to Ile d'Ambre
Mauritius is an idyllic location for Sea Kayaking. It's beautiful vast protected lagoons offer great paddling experiences. Paddle through the mangroves of Ile d`Ambre and soak in the peace and quiet. Visit the ruins & forest of this tranquil islet and discover its history.
3. Cruise the rivers of Mauritius
Try the famous stand up paddle activity. The beautiful west of Mauritius is home to dramatic mountain ranges and rivers that cut in from the ocean, making this part of the island breathtakingly beautiful. Get up early and SUP along the Tamarin river
4. Rochester Falls
An absolutely spectacular spot surrounded by immense natural beauty in Mauritius is the Rochester Falls. The spot lies in the south of Mauritius at Souillac in the Savanne River and is a widely popular attraction among tourists.
Cascading down a height of about 10 meters, the Rochester Falls make for a beautiful sight with thick foams of water settling at the bottom and looking like furry white cotton balls.
5. Pont Naturel – Grand Port, Mauritius
Picture yourself staring at the horizon and all of a sudden, a bridge protrudes right under your feet. This is nature's way of giving you that VIP seat you've been longing for all your life.
Pont Naturel (Natural Bridge) is a volcanic rock formation (2 meters or 6.5 feet long) that looks like a man-made bridge yet it is formed by natural processes. It's a part of the cliff at Gris-Gris. On the surface, there are many little holes through which seawater goes making whistling sounds.
That's why this place is also called "le soufler" which means "a blower". Nearby, there's a nice wooded area where you can find shelter from the heat. It's a perfect place for picnics, very popular among locals.
6. Ile aux Fouquets – Grand Port, Mauritius
A 5 hectares islet at the entrance of Grand Port, it is recognisable by its fortification and lighthouse. A vestige of Napoleonic wars, the building is now being revamped by the local authorities. While one side of the islet has smooth contours with a few granules of sand, the rear end goes into the abyss. Embark on a ship from Mahebourg to visit this little rock. Chances are that you may be the only ones visiting on that day!
7. Pieter Both Mountain
Pieter Both is the most iconic mountain in Mauritius and the second highest after Piton de la Petite Riviere Noire. It is named after Pieter Both who was the first Governor-General of the Dutch East Indies before dying in a shipwreck on his way home.
Reaching the summit is no longer possible without climbing gear. Climbing the mountain and getting back down is the challenge and should be attempted by experienced hikers only.
8. Les Salines - Tamarin, Black River, Mauritius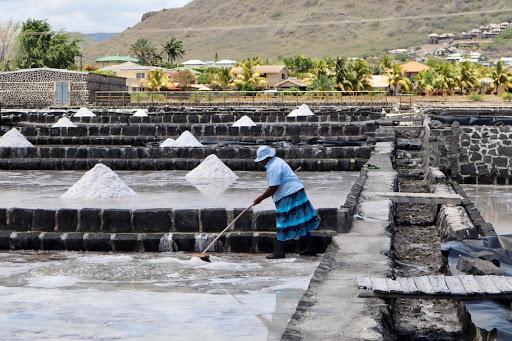 On the arid lands of the West coast, at the foot of La Tourelle, lie hectares of salt pans. A few years ago, an exclusively female workforce could be seen collecting the white crystals. Today, the area has been closed down but can still be visited at certain hours. The little secret is to head to Les Salines at dawn to be able to see the local workers with salt baskets on their head during the extraction process. With such magical elements, you can't miss to have the perfect shot for your holiday memories! Make haste since real estate development has been announced recently.
9. Champ de Mars racecourse
Horse racing is very popular in Mauritius and takes over the week-ends of many 'racegoers'. This racecourse was a military training ground until the Mauritius Turf Club was founded in 1812, making it the second-oldest racecourse in the world. Mauritian independence was proclaimed here in 1968.
If you're here on a race day, it's well worth joining the throng of betting-crazy locals. Tickets for the stands range from Rs 50 to Rs 100, but admission to the rest of the ground is usually free. You could enjoy a day at the horse races in Mauritius with a premium spot in the VIP suite.